Product Description
SolarEdge HD Wave Single Phase Inverters
SolarEdge SE3800H-US HD WAVE GRID TIE INVERTER 3800W 240 VAC, String Inverter
** SolarEdge changed ALL units to display-less models. The new model requires an updated cell card, which allows cellular communication. Cell card is not required to commission the unit; however, it is needed for cellular communication. You can hardwire the units for communication through computer.
*see product images for specifications
The new SolarEdge HD-Wave technology inverter is a much smaller and lighter form factor, allowing for one-person installation, and easier/less costly shipping. This was the winner of the 2016 Intersolar award, breaking the mold of traditional inverters. Using advanced digital processing allows the inverters to create a clean high definition wave. This also means less magnetics and heavy cooling elements are needed inside. Additionally, these inverters are highly efficient - in a class of their own- providing more energy production for an improved ROI on your solar power system.
FEATURES:
Small and lightweight at under 25 lbs

Specifically designed to work with power optimizers

Highly efficient - 99% CEC weighted efficiency

Up to 155% DC/AC over sizing allowed

Longer strings (up to 6,000W per string on SE7600H)

Integrated Arc Fault protection and Auto-Rapid Shutdown per NEC 2014/2017

Faster commissioning with rapid pairing and 4 button touch panel

Utilizes thin-film capacitors vs. electrolytic capacitors -minimal heat loss, more reliable

Outdoor and indoor installation

Standard 12 Year Warranty

Record-breaking efficiency Integrated arc fault protection for NEC 2011 690.11 and integrated rapid shutdown for NEC 2014 690.12 Extremely small High reliability without any electrolytic capacitors Built-in module-level monitoring Suitable outdoor install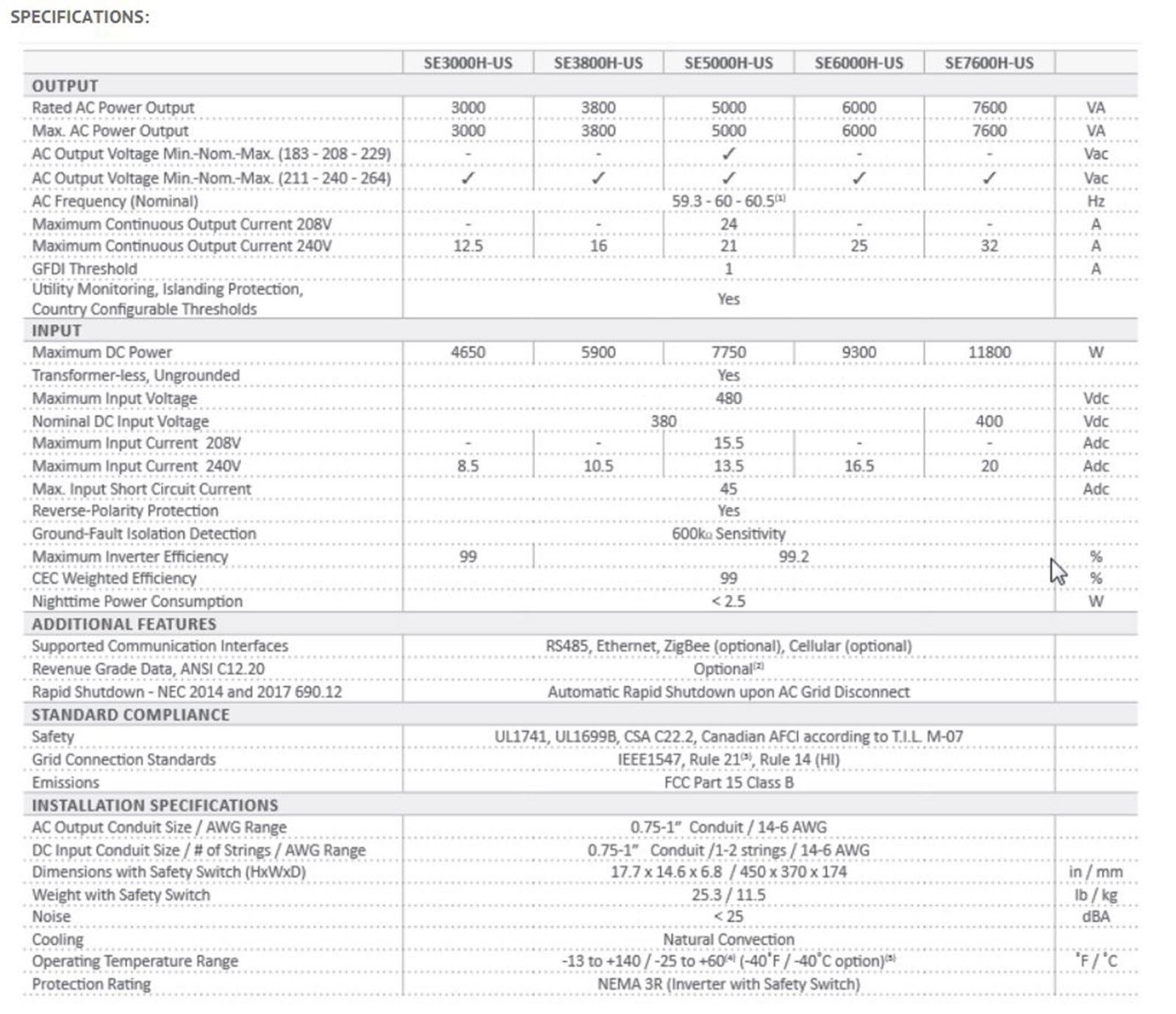 Product Videos
Custom Field
Product Reviews