Product Description
Hurricane "BIG ASS" Wind Turbine Generator 24V 1.5 KW 1500 Watts Real World Output
MOTOR FREIGHT SHIPPING TO THE US LOWER 48 ONLY. NO INTERNATIONAL SHIPPING AVAILABLE ON THIS PRODUCT.
FREIGHT FEE WILL BE CALCULATED AND INVOICED
Hurricane "BIG ASS" Wind Turbine Generator 24V 1KW 1000 Watts Real World Output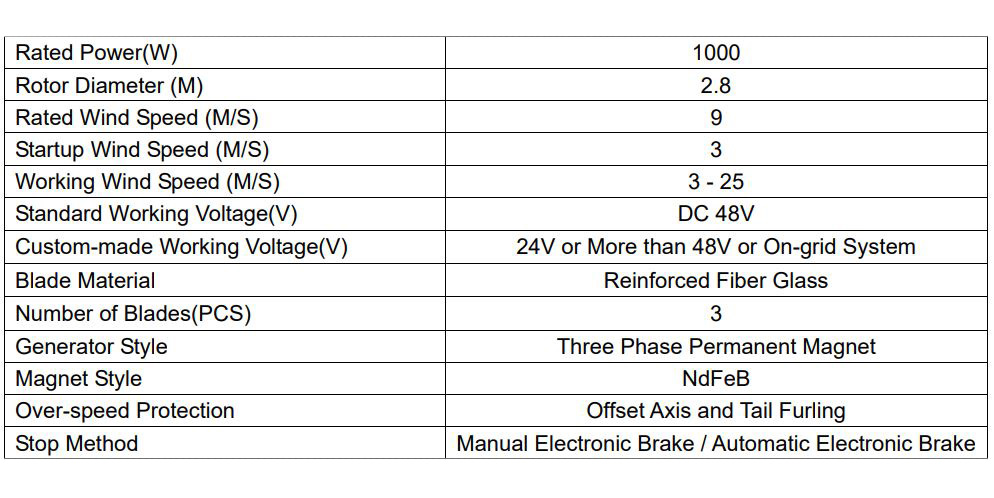 500 W at around 12-14 mph wind

1 KW at 18-20 mph
1.5 KW plus at 25 mph wind

Offset generator head controls overspeed without the transfer of jarring associated with furling design upward or sideways which transfer shock into the blade set and generator bearings.

The "Big Ass" Hurricane 1KW wind turbine is a large wind turbine kit meant for serious DIY enthusiast. It weight around 200 lbs and is a commercial grade machine. Check out the power curve and the large blade diameter which is needed to make power.

This wind turbine will need a tower of substantial strength (not included)

Many of the offerings you will see from other vendors simply do not have the blade diameter needed to produce the power which is advertised. The 2.8 meter rotor diameter and 80 lb generator this machine's blades simply outclasses the competition

The Hurricane BIG ASS wind turbine is rated at the continuous power standard which is the amount of power that can be generated non stop in a steady wind. The rotor diameter of the wind turbine is the main determining factor of how much power a wind turbine can generate. Our turbine makes more power over time in kwh, more continuous power and has larger blades, more swept area, than most machines that you will find on eCommerce in the small wind world.


Our turbine does what is on the label...at 24.6 MPH in which you can expect 1000 watts 1500 maximum continuous.
Helpful links to blade calculators should help you determine how much power is actually available in the wind as well as which wind turbine products are advertised within the realm of physics.
Determine the rotor diameter of the blades and see for yourself
https://www.warlock.com.au/tools/bladecalc.htm
http://www.engineeringtoolbox.com/wind-power-d_1214.html
Once you can observe the relationship between rotor diameter, it may be useful to compare the Small Wind Energy Council's list of approved wind turbines. These turbines have been verified through a scientific methodology which makes them eligible for the 30 percent tax credit. Rotor diameter and the correlation between and power output in the mainstream marketplace are all but ignored by the average consumer. Determining how much blade length and swept area it takes to generate continuous power is a primary consideration when considering a small wind generator. It is continuous power output that translates to cumulative KWH power production which is the only metric which matters in small wind energy production. That is Kilo Watt Hour production over time.

Pair this turbine with one of our MPPT controller in our store for maximum power production over time. (Midnite Solar, Outback Power, Magnum, Morningstar)

It may be useful to review the data on certified machines blade diameter Vs output in relation advertised power output

http://smallwindcertification.org/certified-small-turbines/


Our turbine does what is on the label at 24.6 MPH in which you can expect 2000 watts. This is the standard the small wind industry uses to rate a product and we are part of the small wind industry. It seems that many competitors, which may or may not consider themselves part of the small wind industry, ignore this standard. We are not here to speak about them but it is necessary to understand this fact when comparison shopping.


At the end of the day if you look at the blade diameter a wind turbine can only produce the power that is available in the wind at a given wind speed. This can be expressed mathematically by the formula:
The theoretically available power in the wind can be expressed as

P = 1/2 ρ A v3 (1)

where

P = power (W)

ρ = density of air (kg/m3)

A = area wind passing through perpendicular to the wind (m2)

v = wind velocity (m/s)
If the blade diameter does not have enough diameter to produce the power at a given wind speed the the fact is you can be assured the advertising is false.
Product Videos
Custom Field
Product Reviews